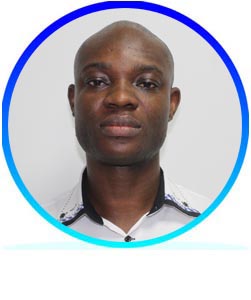 S. Johnson Ibidapo – Research and Program Officer
Johnson Ibidapo is a trained Psychologist, Counsellor and Human Resources Manager with excellent management, communication and people skills. His experience in counselling and managing people spans over 13 years, while his stint with the development world dates back to 2010 during his compulsory National Youth Service in Obudu, Cross River State. Johnson is an academic, with publications in academic journals, including the online Academia.edu; he also has some award-winning proposals to his credit. Johnson holds a Master's degree in Social/Industrial Psychology from the prestigious University of Lagos and currently leads the Media Department of the Human Development Initiatives. He believes in the future of an ideal Nigeria where development ideals are prioritized and corruption is anathema. Johnson hopes in the near future to contribute to national development through his researches on the Social Psychology of Corruption. He also mentors several youths and adolescents from all over.
Folashade Ayeni – Senior Secretariat & Administration Assistant.
Apart from the School Leaving Certificate that Folasade Ayeni has acquired, she has undergone both Basic and Advanced Computer Studies at the Federal College of Education (Technical) Akoka, Lagos, Nigeria. She has also passed stage 3 of the professional typing speed examination of the Royal Society of Art (R.S.A.), Nigeria which signifies that she can type 120 words per minute. Mrs. Ayeni has participated in both local and international trainings targeted at adolescents, children and women.
Victoria Ngozi Uzoma – Legal Officer
VICTORIA NGOZI UZOMA is a lawyer with over 7 years experience in legal practice. She obtained her law degree from the University of Abuja, Federal Capital Territory. She is currently undergoing her masters program in Law with University of Lagos, Akoka, Lagos. Victoria believes that everyone has rights and that human rights are inalienable. Prior to joining HDI, Victoria has worked with other Non-governmental organizations as Legal Officer and Mentor.