Prof. Sarah B. Oloko – Ph.D (Chairperson BoT)
Prof Sarah B. Oloko-Ph. D in Social Anthropology from Harvard (1979). She's a Professor of Sociology of Education and former Director of the Distance Learning Institute at the University of Lagos. Some of her specializations include child development and children in need of special protection measures. On the latter, she has carried out large-scale studies in various geo-political zones of Nigeria, sponsored by international organizations such as Ford Foundation, UNICEF, ILO, UNDP, IWGCL and the Federal government.
Prof. Bolaji Owasanoye- ICPC Chairman  – (Member BoT)
Bolaji Owasanoye obtained his LL.B and LL.M in 1984 and 1987 from the Universities of Ife and Lagos respectively.
• A socio-legal human rights advocate with about 25 years experience in social development, he combines his work as Professor of Law at the Nigerian Institute of Advanced Legal Studies with the Executive Directorship of Human Development Initiatives one of the leading women and children's rights NGOs in Nigeria.
• Professor Owasanoye began his career at the Lagos State University in 1986 as Assistant Lecturer. He moved over to the Nigerian Institute of Advanced Legal Studies in 1991 and became a professor of law with effect from 2001 at age 38.
• He consults for various national and international bodies including Federal and state Ministries and agencies, including the United Nations Institute for Training and Research (UNITAR), UNICEF, ILO/IPEC, DFID, the World Bank just to name a few.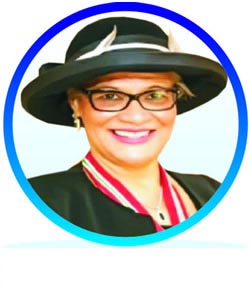 Hon. Justice Amina Adamu Augie. (Member BoT)
Hon. Justice Amina Adamu Augie is a Justice of the Court of Appeal in Nigeria. Formerly Legal Aid Officer in Sokoto State of Nigeria and Lecturer at the Ahmadu Bello University, Zaria, Justice Augie moved to the judiciary after a stint as Senior State Counsel in the Office of the Chief Counsel to President Shehu Shagari in 1982/84 and Lecturer at the Nigerian Law School, Lagos between 1984 and 88. She was Chief Magistrate, Sokoto State Judiciary, 1988 -92; High Court Judge, Sokoto State Judiciary, 1992-2002. She was appointed a Justice of the Court of Appeal in 2002. She has served as Chairman of various Tribunals/Commissions including Recovery of Public Properties Tribunal, Sokoto, 1995/96; Failed Banks (Recovery of Debts) and Financial Malpractices in Banks Tribunal, Lagos, 1996/99; National Assembly, Governorship and Legislative Houses Election Tribunal, 2000/02; and Judicial Commission of Inquiry into Nigerdock, 2001/02. She also served as Member of the National Committee on Prisons Reform, Member, National Working Group on Juvenile Justice Administration; Chairman, Experts Consultative Meeting on the Passage of the Child Rights Bill and Member, National Child Rights Implementation Committee (NCRIC).
Prof. Oluyinka Esan – Ph.D (Member BoT)
Oluyinka Esan—Ph. D in Sociology from University of Glasgow (1993). Currently a Senior Lecturer in Media Studies at the University College, Winchester, UK. She's interested in the impact of the media on society particularly from a development perspective. Her work has focused on the social relevance of media messages, audience reception (women and children), studies on production practices and advocacy on child rights and health issues. Much of her experiences as a lecturer comes from the Department of Mass Communication, University of Lagos. She has a broad portfolio of consultancy experience in advocacy and behavior change communication, working with agencies, international bodies and local NGOs in Nigeria.
Prof. Omololu Soyombo – Ph.D (Member BoT)
Prof. Omololu Soyombo Graduated from the University of Lagos with a B.Sc in Sociology in 1977 and obtained his masters degree in Sociology from the University of Essex, England. He is a Professor of Sociology with the Department of Sociology at the University of Lagos; former Managing Director at University of Lagos Consult and former Dean faculty of Social Sciences. Prof. Omololu Soyombo has researched and published extensively, he is also a consultant sociologist for various institutions and Government agencies. He is a member of the Nigerian Anthropological and Sociological Association and member Integrated Transport Initiative. One of his areas of specialisation is sociology of deviant behaviour in youths.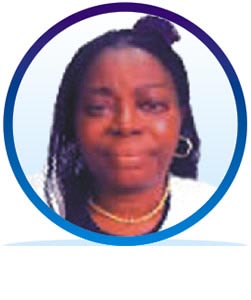 Dr. Ngo Iyangba – Ph.D (Member BoT)
Dr. Ngo Iyagba graduated from University of Ibadan with an M.B.B.S in 1976 and obtained a fellowship from University of Lagos Teaching Hospital in 1987. Formerly lecturer at the Lagos University Teaching Hospital, she is a Fellow of West Africa College of Surgeons (FWACS 1997), Fellow of Nigeria College of Obstetrics and Gynaecology (FMACO 1987). Dr. Ngo Iyagba is currently Medical Director/Consultant Obstetrician Gynaecologist at the Ultimate Charry Medical Center which is one of the leading gynaecological medical centers in Nigeria. She has a number of articles in her area of specialization. She is also a member of Society of Obstetrics and Gynaecology of Nigeria (SOGON), member of Nigeria Medical Association and member of Nigeria Women Medical Association. She is also very active in sports (Athletics), loves community health delivery programmes and music.
Mrs. Olufunso Owasanoye – Executive Director (Secretary BoT)
Mrs. Olufunso Owasanoye is an Educationist, Child's Rights advocate, Counselor and a Social Worker; she has a Master's Degree in Educational Management and Administration as well as another Masters in Social Work and Community Development. She possesses a Diploma in Adolescent and family counselling (DipSw) and a Diploma in Social work both from the United Kingdom. She is Presently the Acting Executive Director of Human Development Initiatives (HDI), where she sees to the day-to-day running of the organization. She focuses on Children, Youths, Adolescents and families and organizes seminars for Adolescents, School Counselors children and widows. She has attended National and International Conferences. She is the coordinator and facilitator of the student leadership training and capacity building program. Her hobbies are reading, community service, singing, and teaching.